We are thrilled to introduce our new and improved Adoption Program to you! Adopt a false killer whale, humpback whale or bottlenose dolphin through Pacific Whale Foundation and receive a fun adoption package to learn about your animal and showcase your commitment to helping protect them.
What inspired PWF to create a new Adoption Program?  
While PWF's Adoption Program has existed for many years, the program received its first redesign on the heels of the COVID-19 pandemic and its impact in Hawaii and worldwide. In an effort to connect better with supporters around the globe, PWF team members wanted to create collateral containing high quality imagery and content (available in digital and printed versions) to better illustrate the animals chosen to be featured in the new adoption program. Additionally, the new program will offer better information on and access to activities conducted by the Research team through frequent emails and exclusive online events and webinars. By revamping the program this way, PWF hopes to better communicate with our global supporters in a more efficient and effective way to spread critical information about ocean conservation. 
How did you select the animals up for adoption? 
Animals were carefully selected by the PWF Research team based on a number of variables. While animals with more frequent and recent sightings were often selected, there were some animals chosen based off their uniqueness and/or popularity, such as Migaloo. Selected animals who did not already have a name were placed in our first ever Name a Whale Auction in June 2021. Stay tuned for another online auction from October 29-November 8, 2021 when a false killer whale and bottlenose dolphin will be up for auction again to join the new adoption program! 
How are the proceeds from my adoption used? 
Your recurring annual donation of $80 from the Adoption Program is used to fund the vital activities of PWF's Research, Education and Conservation teams. These projects include ongoing whale and dolphin field research and publications that influence conservation decisions around the globe, coastal marine debris monitoring to better protect the ocean and its inhabitants from dangerous human-caused debris and learning opportunities for children to inspire future environmental stewards. To learn more about what we're doing, visit www.pacificwhale.org.  
What do I receive when I adopt an animal? 
When you adopt an animal at PWF, you will receive a professional quality folder containing your animal's story, sighting background, species information and a PWF research overview. Additionally, you will receive a hand-signed certificate of adoption with a personalized sticker with your animal's name. If you choose to help us reduce our carbon footprint and receive these items digitally, you will receive everything via email except the sticker. With recurring annual donations of $80, you will continue to receive re-sighting information for all named animals in our photo-ID catalog and access to exclusive online events and webinars. Stay tuned for more information on future swag!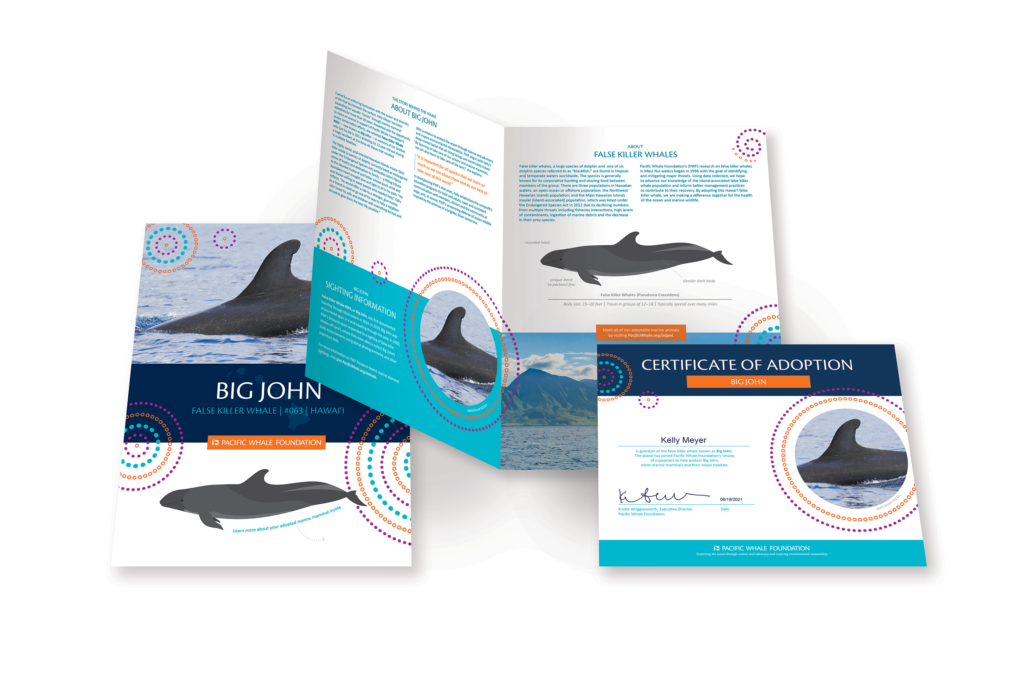 Meet some of the adoptable animals
MIGALOO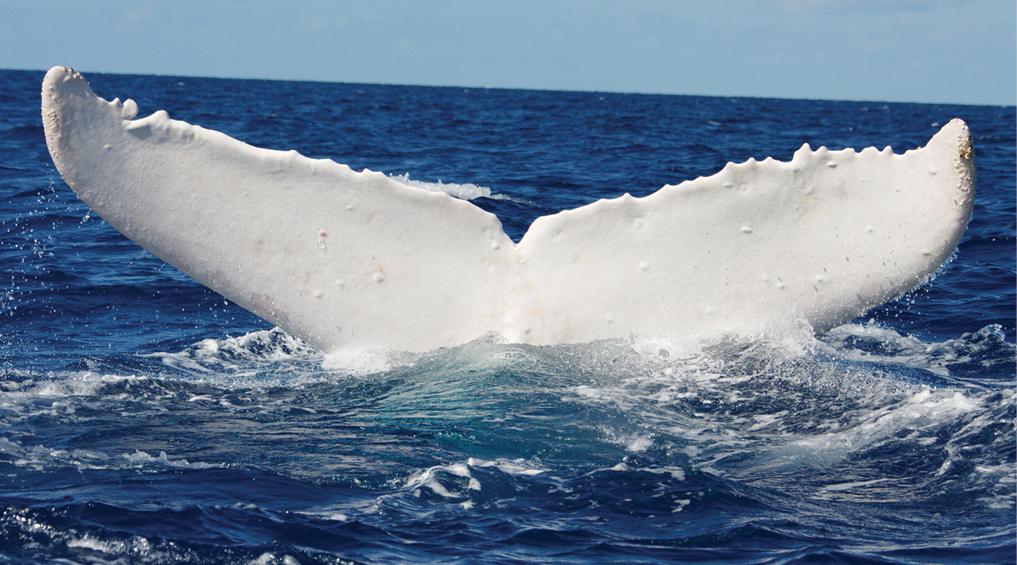 Humpback Whale #1210, known worldwide as Migaloo due to his unique coloring — quite possibly the only all-white adult humpback whale alive today — was first spotted in 1991 off Byron Bay, Queensland, Australia by volunteers conducting a whale count. The first photograph of Migaloo, taken through a telescope from a distance of over five kilometers away, was blurry and difficult to ascertain if he was indeed completely white. However, researchers were able to estimate his age at the time to be approximately three to five years. In 1993, Pacific Whale Foundation researchers encountered this amazing white whale in Hervey Bay, Queensland, and were able to confirm that Migaloo was all white. Then in 1998, PWF researchers recorded the whale singing, a trait distinct to male humpback whales. Genetic testing in 2004 by Southern Cross University scientists further confirmed that Migaloo is a male. A 2011 study of his DNA by researchers at the Australian Marine Mammal Centre confirmed that Migaloo is a true albino.
OHANA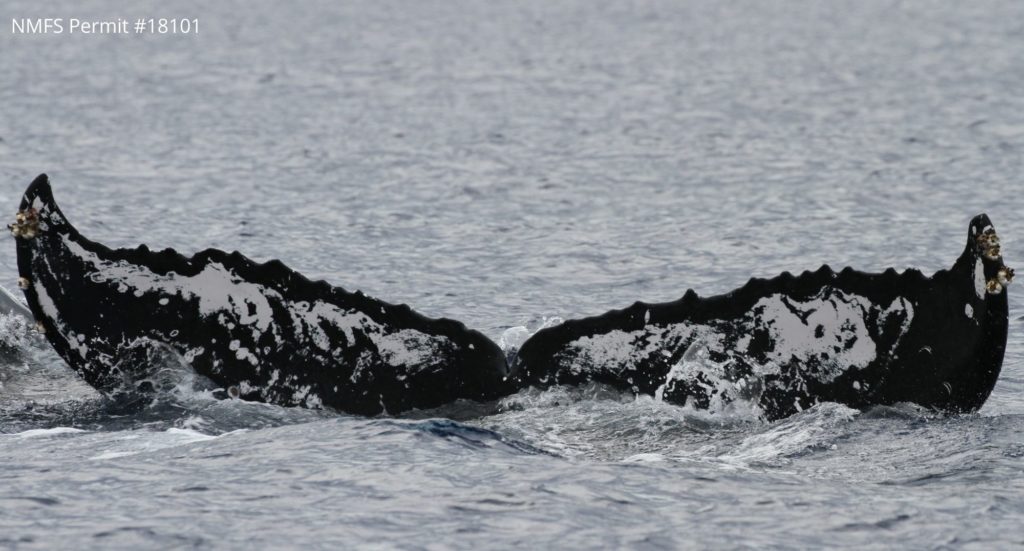 Humpback Whale #0100, or Ohana, is a female humpback whale observed by PWF researchers in Maui Nui waters on March 6, 2019. During the encounter, Ohana and her calf were seen swimming slowly near the surface of the water. The team was able to successfully launch a drone over the mother-calf pair to collect valuable body measurements of both animals. These body measurements will be used to study the energetic costs for mothers and the growth of calves during their time in Maui Nui region and assess changes in body conditions during the migration between Hawai'i-Alaska.
HE'E NALU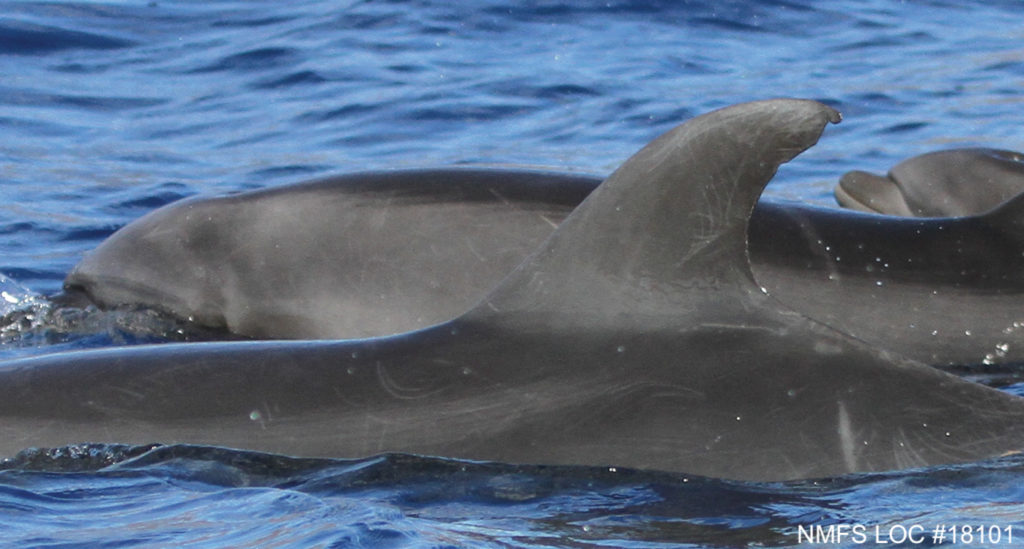 Bottlenose Dolphin #093, known now as He'e Nalu, was initially sighted on January 9, 2010, and has been seen repeatedly over the years in inter-species interactions with humpback whales. While researchers are not exactly sure why these associations occur between these two species, some theories suggest that it might be a play-like behavior for the dolphins. During the most recent sighting with this dolphin on April 20, 2021, PWF researchers were able to successfully launch the drone and collect valuable body measurement data. This method of data collection will help the Research team learn more about the body condition and health individual dolphins.
HOIHOI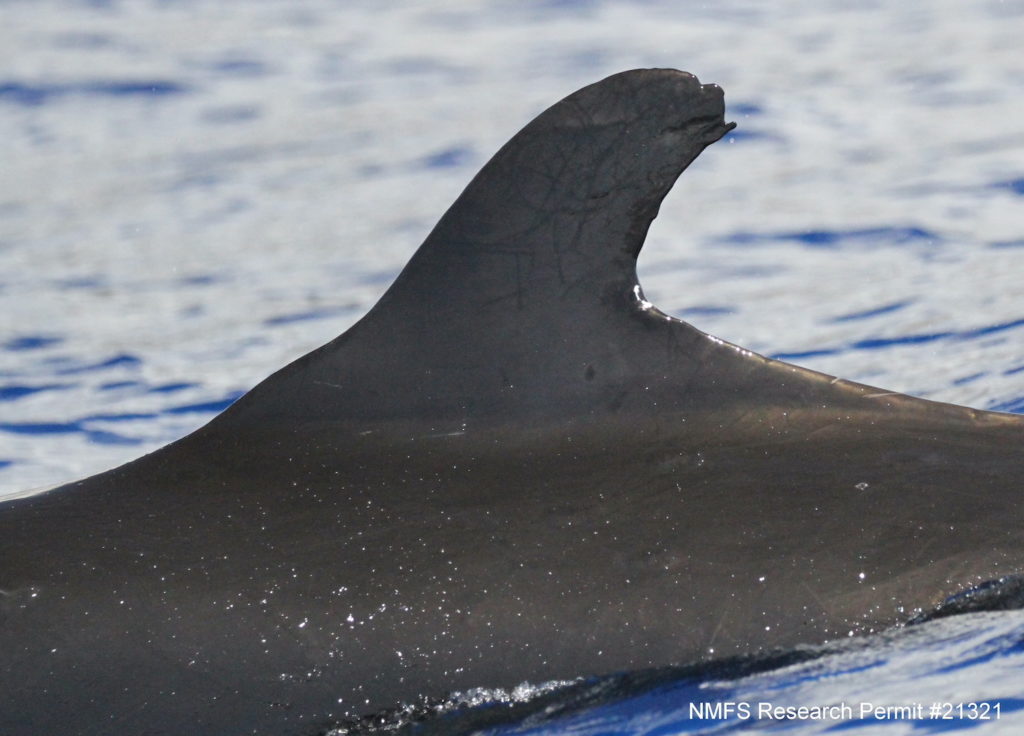 Pacific Whale Foundation researchers first spotted False Killer Whale #073 on January 9, 2000, traveling and feeding on mahi mahi with a pod of 20 individuals in the shallow warm waters between Maui and Lana'i. This area is called the Au'au Channel, which in Hawaiian means "to take a bath." PWF's Research team sighted Hoihoi again on August 28, 2012, traveling through the Maui Nui area. During an encounter on March 15, 2019 the team was able to successfully launch a drone and collect valuable body condition and body measurements data of the animals. The most recent sighting of Hoihoi occurred on November 17, 2020, when PWF researchers responded to reports of false killer whales in the area and were able to find the group and collect data as they traveled quickly through the area. Every sighting of Hoihoi is valuable for PWF's ongoing research that aims to help protect this endangered population.