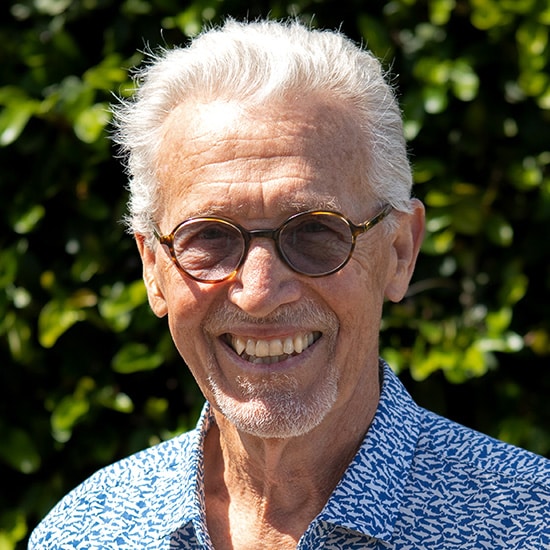 Board of Directors
Wayne White
Member at Large
Board Chair Wayne White may have roots deep in California, but Maui Nui and surrounding waters hold his heart. "I've been scuba diving since high school and have been in love with the ocean my entire life," he says. "Can't get in there enough."
With family living on Maui, Wayne has spent a lot of time on island. He fondly recalls his very first encounter with a humpback whale — experienced through a thick plate of glass. While working out at the gym in a Kaanapali resort early one morning, gazing at the ocean through a massive window, he witnessed the full breach of a humpback whale. "The whale came completely out of the water," he remembers. "I almost fell off my treadmill! I didn't even know about PWF at the time, but I knew I wanted to be involved somehow. I can still see in my mind every micro-second of that whale rising up out of the water."
Since then, Wayne has been on many a whale-watching excursion and his interest in Pacific Whale Foundation (PWF) grew exponentially, especially after his sister, Sandy, began volunteering with the organization. A good friend and a former chief scientist for PWF further spurred his fascination with PWF's research and the scientific understanding of marine ecosystems and wildlife.
One memory that epitomizes Wayne's commanding affinity for whales and other sea life was on a Marty Dread Island Rhythms cruise with his wife in 2012 to celebrate their anniversary. His sister had arranged for Marty — a good friend of the family's — to sing a song in honor of the occasion. During the cruise, a humpback whale surfaced very close to the boat, almost with its nose against the vessel, then turned its head directly toward him, Wayne recalls.
"I had never been so close to a whale, and I knew it was looking right at me," he remembers with a laugh. "It submerged and went under the boat, so I followed it to see if it would appear on the other side. The whole time, Marty was singing our anniversary song, and I had no idea whatsoever. Luckily my wife understands my passion, so I wasn't in trouble, but Marty still teases me about it."
Although he's served on several nonprofit boards, including the Center for Lands Management, Ecological Restoration Business Association and Habitat Stewardship Foundation, Wayne is particularly thrilled to chair the PWF Board as one of the longest serving members of the Board's current iteration. He brings proven experience in conservation efforts and a passion for the ocean that knows no bounds.
President of W-Squared Consulting in Citrus Heights, Wayne holds a master's degree in Biological Sciences with a focus on marine biology and ichthyology — an education that serves him well as an international conservation consultant. He previously worked for the U.S. Fish and Wildlife Service for 31 years where he led the Endangered Species Program overseeing the implementation of the Endangered Species Act and Marine Mammal Protection Act in California, Oregon, Washington and Hawai'i.
His goal as Board Chair is to develop, expand and strengthen the Board in order to advance PWF's mission both locally and internationally. Regarding Board additions, he says it was a focused effort to bring in knowledge, skillsets, abilities and networks needed to succeed.
Chief among issues the Board is tasked with addressing, and one where PWF is making significant strides, is conservation leadership, Wayne notes. "Since Greg first founded the organization, they've been studying — and rightfully so — the impact that all these boats going out to look at the whales are having and established a protocol to minimize the effect," he explains. "We need to expand that, not just here on the Islands, but all over the world. It's a multi-billion dollar industry globally, so you know there's a lot of it going on. We need to get everyone on board with these established protocols."
He also views education as paramount in changing our behaviors as a species, particularly when those behaviors negatively impact marine wildlife. Referring to a time when he watched a group of kayakers and paddleboarders close in on a mother humpback and her calf to get a better look, not realizing the impact their close presence may have on the pair, he says, "I understand the draw, the attraction, but many people don't realize the impact they can have on the animals involved, so education is extremely important."
Eyeing the future, Wayne views climate change as one of the most pressing concerns we collectively face. "The warming of the oceans is already causing the coral reefs to die," he says. It's a huge undertaking, he concurs, and one that no single organization can tackle alone without global buy-in.
Although he is clearly enamored with humpback whales, Wayne is especially drawn to nudibranchs — tiny snail-like creatures that crawl along the ocean floor in a kaleidoscope of bright colors. "I guess you could say that my love of ocean wildlife runs from the very small to the very large," he acknowledges, "and everything in between."