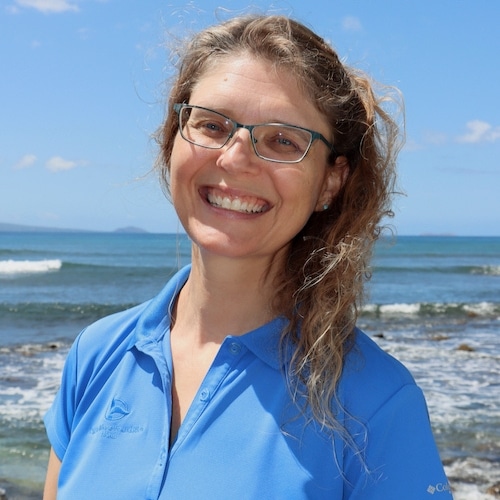 Staff
Dr. Shannon Barber-Meyer
Research Manager, Hawaiʻi
Shannon joined Pacific Whale Foundation in 2022 as Research Manager to conduct and manage cetacean research in Hawaiʻi. She holds a PhD in wildlife conservation and completed a postdoctoral position studying emperor penguins in Antarctica. Shannon is a broadly trained wildlife research field biologist having previously studied tigers in Asia, elk in Yellowstone National Park, and gray wolves and white-tailed deer in the Superior National Forest. Shannon's prior marine mammal field experience includes assisting with manatee captures for health assessments, coastal bottlenose dolphin surveys, and cetacean surveys in Spain. She has been trained in photo ID, stranding response techniques, and marine mammal acoustics. Shannon has published more than 45 scientific articles, including research on common bottlenose dolphins in Venezuela.
Memberships and affiliations:
Shannon is a member of the Society for Marine Mammalogy and the American Cetacean Society. She is a Level 2 responder on the Hawaiian Islands Large Whale Entanglement Response team and a NOAA NMFS-approved certified Marine Mammal / Protected Species Observer. She has served on two IUCN (International Union for Conservation of Nature) Species Survival Commission Specialist Groups and as a representative to the United States Interagency CITES (Convention on International Trade in Endangered Species) Committee.