Pacific Whale Foundation has two new humpback whales from our North Pacific Humpback Whale Catalog that are available for a symbolic adoption.
Makena is an adoption humpback whale that was named in honor of Greg Kaufman, the Founder of Pacific Whale Foundation.  This whale represents the long-term research Greg did to promote ocean conservation and his effort to be a voice for protecting whales. Makena was first seen in Maui waters as an adult in 1997.  During this first sighting, Pacific Whale Foundation researchers photographed Makena in a surface active pod with five other whales, including a calf.  In 2014, Makena was sighted again in the 4-island region and a photograph of its tail flukes was taken by a member of the public and donated to the research department.  The story of this whale perfectly encapsulates Greg Kaufman's legacy;  combining our dedicated research study with a citizen scientist program, and promoting marine education and conservation through our animal adoption program.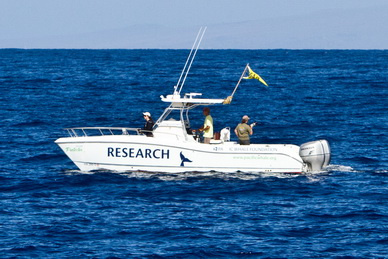 Sally is a female humpback whale that has become famous in the Maui area thanks to her unique "fluke-up" behavior.  The "fluke-up" behavior is rarely seen in Hawaiian waters, and is referred to by some as "sailing". Sally was first observed by our researchers exhibiting the "fluke-up" behavior with her calf nearby in 2016.  No one fully understands the purpose of this behavior, but in 2018, this whale once again had a calf and several times throughout the season was seen displaying the same posture. Photos of Sally were donated to the research department from one of our Keiki Whalewatches, and from Naturalist Josh Wittmer aboard PacWhale Eco-Adventures whalewatch.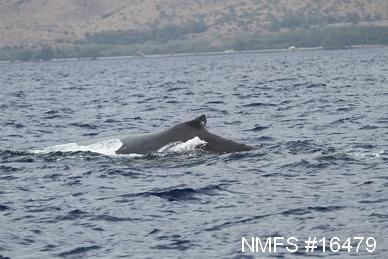 Want to know more about these amazing individuals? When you adopt a marine mammal through our adoption program you get the chance to learn more about the specific animal's story and get updates on any re-sightings of the individual.  By adopting one of these animals, you will be able to learn more about Makena the whale, or Sally and her unique "fluke-up" behavior.  Check out our website to learn how to adopt one of these magnificent whales, or any of our other marine mammals that are available for adoption from our catalogs.
And remember, when adopting a dolphin or whale you are supporting PWF's ongoing research, education, and conservation efforts to protect marine life. Thank you for your support!