On September 17, as the world celebrates International Coastal Cleanup Day, we reflect on past successes and current challenges in the fight against marine plastic pollution —  one of Pacific Whale Foundation's identified major threats impacting whales, dolphins and other marine wildlife worldwide.
Each year, marine plastic pollution contributes to a growing number of entanglement deaths and is often ingested by larger animals mistaking it for food. Not surprisingly, single-use plastics provide the bulk of this debris. Within each mile of ocean floats an estimated 46,000 pieces of plastic debris.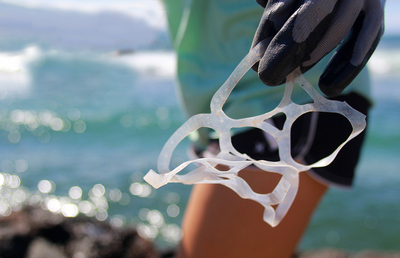 In response to this emerging threat, Pacific Whale Foundation (PWF) piloted a community science program in 2015 to raise awareness and encourage public involvement in the monitoring and removal of debris from Maui's beaches.
Through the Coastal Marine Debris Monitoring Program (CMDMP), Maui residents and visitors can pick up supplies (upcycled grain bag donated by Maui Brewing Co. and a datasheet) at PacWhale Eco-Adventures' Ocean Store in Lahaina or Ma'alaea, clean up any Maui beach at their own convenience and then submit datasheets to PWF. The CMDMP provides PWF's Conservation team with valuable data used to inform, influence and guide legislation and measures designed to mitigate marine debris in Maui County.
A similar program soon followed. Adopt a Beach encourages Maui residents to select a specific section of shoreline, commit monthly to its cleanup for the period of a year and provide PWF with the collected data.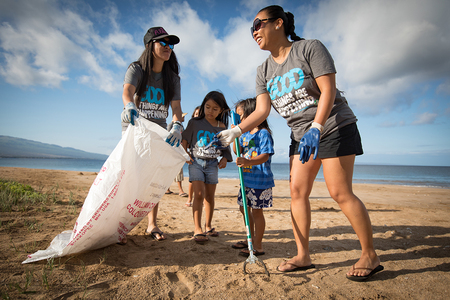 In 2021 alone, participants of PWF's marine debris programs removed more than 67,000 pieces of debris from Maui's beaches. Of this debris, nearly 75% (74.6%) was identified as plastic — a particularly hazardous form of debris that never truly biodegrades but rather photodegrades or breaks up into smaller pieces that remain in our environment. These tiny fragments infiltrate marine organisms and permeate the food chain posing potential risks to marine biodiversity and ecosystems. Already containing noxious chemical additives and contaminants, plastic polymers absorb additional toxins on their journey such as known endocrine disruptors that can be harmful to marine life even at extremely low concentrations.
Cigarette butts, the second most collected item last year, remain one of the most common debris sources polluting island shorelines. Despite a law passed in 2014 prohibiting tobacco use on Maui's public beaches, volunteers removed 6,656  cigarette butts from local beaches in 2021.

In response to the continued  pervasiveness of this purportedly banned debris source, PWF researchers published findings from a 2021 study titled "Getting butts off the beach: Policy alone is not effective at reducing cigarette filter litter on beaches in Maui, Hawai'i" (Currie, J. 2021). The study concluded that policy requiring a shift in social norms, such as tossing a cigarette butt, needs to be accompanied by sustained law enforcement and awareness, or education, around the policy. Citation records for Maui County Code 13.04.020, provided by the Maui Police Department, revealed zero citations issued under the policy banning tobacco use on public beaches and recreation areas as of August 2018.
Influencing policy is only the first step. Once passed, a law designed to limit or reduce marine plastic debris, such as the cigarette-use ban, is only effective if supported through outreach, enforcement and education. Case in point: Data reported to PWF's Adopt a Beach program confirmed that 600 butts were collected in May 2022 alone — the largest number to date this calendar year.
Adopt a Beach and CMDMP, vital to our coastal cleanup efforts, are part of a broader Conservation program that forms one of PWF's three pillars critical to our mission of protecting the ocean through science and advocacy and inspiring environmental stewardship. As managing this program requires passion, dedication and a skill set like no other, PWF is excited to welcome new Conservation Manager Susan Frett to the PWF family.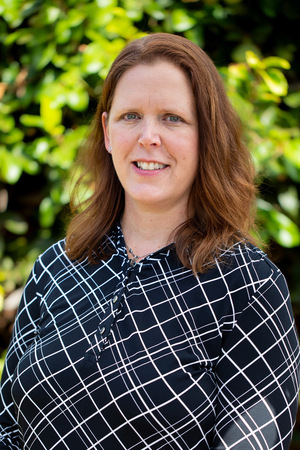 A PWF Member since 2013, Susan has wanted to work for the organization since her first snorkel trip with PacWhale Eco-Adventures, PWF's wholly owned social enterprise that helps fund our Research, Education and Conservation programs. "I was so impressed that certified marine naturalists were onboard sharing their knowledge of marine life with guests as they enjoyed their time on and in the water," she says.
Armed with a bachelor's degree in Environmental Science with a water quality
focus and a master's in Environmental Conservation, Susan helped launch and maintain one of the largest community science projects in the country while working for the Wisconsin Department of Natural Resources Office of Applied Science on the Snapshot Wisconsin project.
Since moving to Maui in early 2020, she was employed as the Community Engagement Coordinator at Maui Invasive Species Committee, primarily on the Community Coqui Control project. Her professional goals are to empower others to take action to protect and conserve the environment.
In the position for less than a month, Susan is fully committed with both feet firmly planted. Her first order of business is expanding the Adopt a Beach program.
Her Adopt a Beach expansion plan includes adding more Maui locations to the current 25, recruiting additional volunteers  and forming partnerships with Neighbor Islands organizations similarly involved to provide a more comprehensive snapshot of marine debris across the state through shared data.
Marine plastic debris awareness and education are among her top priorities. "It's not just about cleaning up our beaches; it's about preventing the debris from getting there in the first place," she explains. Encouraging participants in both the Adopt a Beach and Coastal Marine Debris Monitoring programs to move away from single-use plastics is only the first step in a larger campaign addressing this prolific ocean pollutant.
A seasoned scuba diver, Susan says she would like to widen the debris net further to include underwater cleanup. "I've participated in those programs as an individual," she reveals, adding that such small-group efforts often yield big results. "It would be great if PWF could be a clearing house for that data to get an idea of where that debris is, how much there is and who's participating in its removal, as underwater debris can be particularly hazardous for ocean wildlife."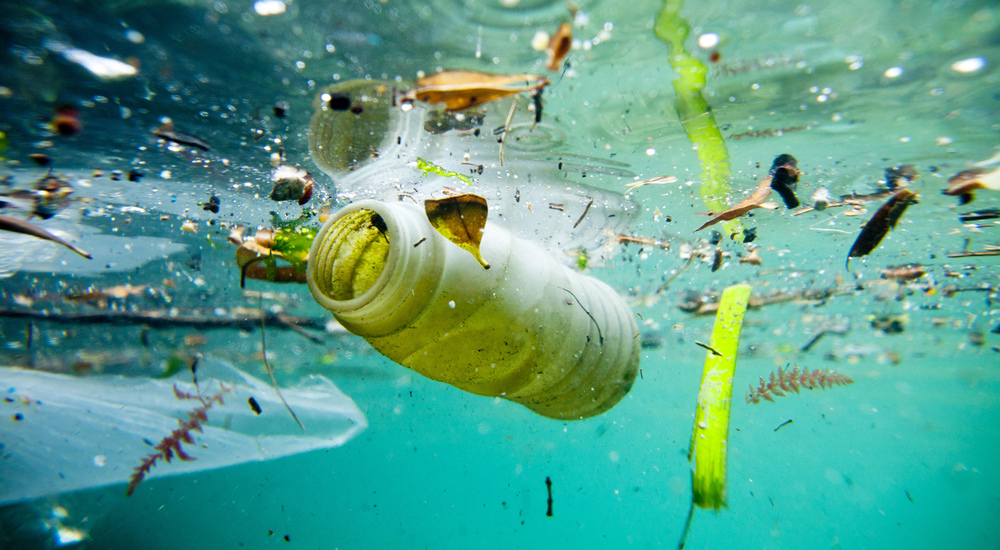 You never know what you might find underwater. She once found a gaggle of golf balls during an impromptu scuba cleanup with friends. "And we weren't even anywhere near a golf course," she recalls.
Abandoned or discarded fishing gear, one of the biggest offenders when it comes to marine debris, is another issue Susan hopes to tackle. Found along shorelines and wrapped around coral reefs, fishing gear is extremely dangerous to marine wildlife. The Conservation team, led by Susan, is actively working on mitigation efforts to address this issue.
A lover of animals who's concerned for the future of our ocean and planet, Susan walks like she talks. Not only does she adhere to these general tips for minimizing plastic waste, she super-sizes her efforts with the following guidelines. And you can too!
Decline free promotional items which are often made of or packaged in plastic
Use solid soap/shampoo/conditioner bars or buy your own refillable small containers to avoid tiny containers while traveling
Use net bags for produce rather than the grocery store plastic bags or skip a bag and wash produce thoroughly at home
Use toothpaste tabs or powder packaged in glass or aluminum rather than toothpaste in a squeeze tube
Use laundry detergent sheets instead of liquid laundry detergent
Buy in bulk for cooking ingredients and personal care items such as soap, lotion, etc.
When deciding between similar items, choose the item in glass or aluminum instead of plastic if possible
For more information on how you can be part of the solution, visit www.pacificwhale.org/conservation.