It's October. Pumpkin patches predominate, long-sleeves supplant tanks and T's, and creative juices flow in anticipation of month's end festivities. As the unofficial harbinger of the holidays, Halloween ushers in the season with 24 hours of playful mayhem, fabricated fear and a dash of whimsy.
Although traditionally celebrated on October 31, Halloween fervor builds with each passing day. From round-the-clock horror movie marathons to grocery shelves crammed with bite-sized candies, there's no ignoring our collective obsession with this gateway holiday. As we emerge from pandemic-induced isolation, Halloween mania is expected to reach a fevered pitch in 2022 with an anticipated $10.6 billion in consumer spending.
But what happens to all this purchased product and paraphernalia when the party's over? Imagine $10.6 billion in trash — much of it typically plastic — clogging up landfills, or worse, finding its way to the ocean. Halloween generates an estimated 12 million pounds of textile waste annually just in the US alone. Commercially produced costumes and makeup, a major contributor, typically contain PVC plastics and flame-retardant chemicals known to leech dangerous toxins into the environment.
Monsters, vampires and zombies may be scary, but the global waste threatening our planet's very survival is truly frightening. This year, be fearless in your commitment to a brighter, greener tomorrow by adopting one or more of the following tips for a more sustainable Halloween.
COSTUMES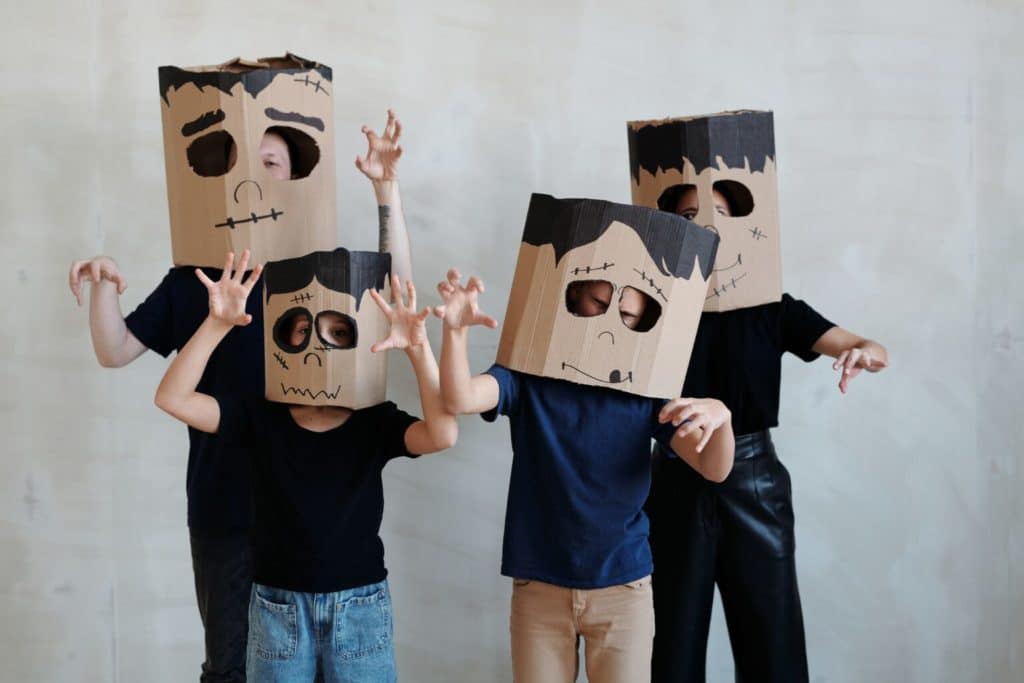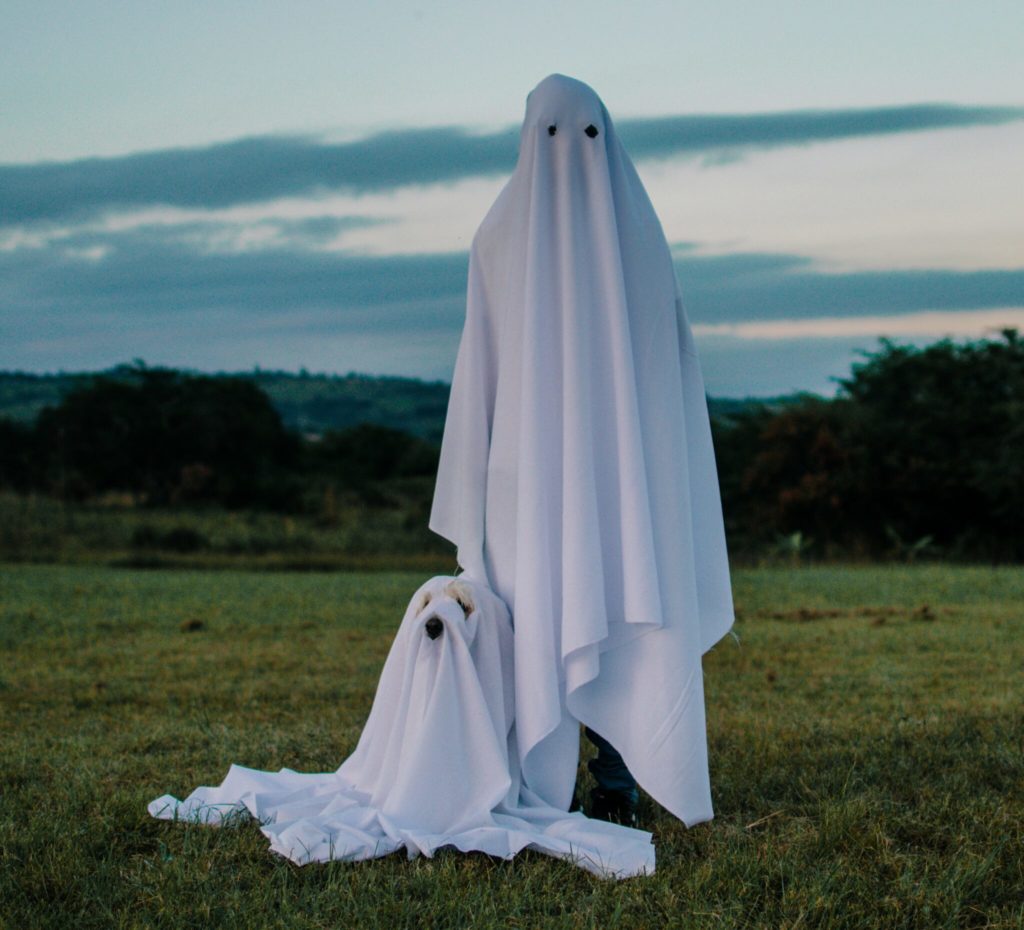 You know that box in the back of your closet filled with old clothes you've been meaning to donate but never did? Worn tops, black pants, stretched-out socks, ratty sheets and other discarded items can be used to make your own unique costume. Inspire creativity in kids with a game to see who can come up with the best costume concept.
Turn that empty Amazon box in the garage into a robot head or a favorite animated character (Sponge Bob anyone?)
Peruse your local thrift store or weekend garage sales for preloved goodies, such as wigs and capes. You'll likely discover a complete costume or two if you look hard enough.


Host a "Costume Swap" party for friends and family. Just because you shudder at the thought of wearing last year's costume doesn't mean it's not perfect for someone else.
If you must purchase a costume, consider one that sends a message. Dress up as whale, dolphin or shark as an opportunity to advocate for ocean conservation.
DECORATIONS
Remember those empty Amazon boxes? They also make great tombstones. Spray-paint gray or black, stencil a funny or frightening epitaph, and place strategically in the yard for a truly chilling effect.
Turn Styrofoam peanuts, which unfortunately are still used as packing material, into worms, maggots or other creepy-crawlies.
Get creative with egg cartons, cotton balls, netting used for fruit such as oranges, and other household items.
Give old decorations new life. Tweak the design, add a little here and there, and you have a fresh take on last year's décor.
Live near a coastline (Maui folks take note)? Scour the beach for discarded or broken boogie boards (ideal for homemade tombstones) and abandoned fishing line for "floating" decorations. Don't forget to pick up other trash, especially plastic and cigarette butts which are extremely harmful to marine wildlife. Make it a group effort with teams competing for the most trash collected.


PARTIES
Cut down on waste by choosing biodegradable products rather than disposable cups, plates and cutlery. Better yet, use your own plates, glasses and silverware.
Encourage one cup per guest with identifying labels or markers so partygoers can keep track of theirs instead of grabbing a new one for each refill.
Don't toss leftover food; compost it instead for a nutrient-rich soil additive. Your plants and flowers will thank you. (Check YouTube or Google for easy DIY composting bins.) Also a great option for making use of those jack-o'-lanterns that are time to go!


TREATS
Buy local. Visit your neighborhood farmer's market for healthy snacks such as apples, bananas, dates and other produce or look for artisan candies or cookies.
If purchasing candy, select those wrapped in foil or boxed. Examples include Hershey's Kisses, Dots, Mike and Ike, Hot Tamales, Nerds, etc. Avoid individual candies with plastic wrappers whenever possible.
Substitute traditional candy for juice boxes with bamboo straws. It's healthier for kids and for the planet.
TRICK-OR-TREATING
Minimize your carbon footprint by limiting trick-or-treating to walkable areas rather than driving to multiple locations.
Forget those one-time use, plastic jack-o'-lanterns or ghosts. Decorate buckets, pails, baskets, pillows or similar household items for a personalized candy carrier that can be used year after year.
PUMPKINS & JACK-O'-LANTERNS
Visit your local pumpkin patch or farmer's market and make picking your Halloween pumpkin a family affair.
Got a green thumb? Plant your own patch. Kids love watching them grow and you'll save a few dollars in the long run.
Keep that scooped-out pumpkin goodness when carving jack-o'-lanterns. Toast the seeds for a tasty snack, use the nutrient-dense meaty pulp in pies, muffins and other baked goods or as a healthy addition to commercial pet food.
PICK UP AFTER YOURSELF
Organize a neighborhood cleanup the next day to properly dispose of candy wrappers and other Halloween-related refuse, which can infiltrate nearby waterways and, ultimately, pollute delicate ocean ecosystems.
For more information on conservation, marine debris and how you can help keep our oceans cleaner and healthier, visit PacificWhale.org/conservation.