First established in 1992, World Oceans Day is a global day of recognition meant to strengthen the voice of the ocean and coastal constituencies worldwide. It takes place each year on June 8 and the theme for 2020 is Innovation for a Sustainable Ocean. This year, you can join Pacific Whale Foundation in being a voice for the ocean on World Oceans Day in one of several fun and impactful ways.
Conduct Your Own Beach Cleanup Using a PWF Beach Cleanup Kit
Pick up your kit at the PacWhale Eco-Adventures Lahaina Ocean Store, 612 Front St, June 1-8, from 10am-6pm or outside our offices in Ma'alaea 300 Ma'alaea Road, Suite 211, June 4-5, from 10am-2pm. Then choose a coastal area and pick up debris while tracking your collection using our datasheet. Bring your datasheet to the Ma'alaea location June 10-11 from 10am-2pm and you will receive a free RETHINK kit, filled with handy items to help you live a more eco-friendly life! The data you collect will be used in our longstanding citizen science project to track marine debris in coastal areas in order to create the most effective strategies to combat marine debris at the source. Find out more about our Coastal Marine Debris Monitoring Program at pacificwhale.org/conservation/marine-debris/.
Participate in a Citizen Science Reef Debris Cleanup
PWF has partnered with Extended Horizons to offer a Scuba Dive Reef Cleanup on World Oceans Day, June 8 at Hanaka'o'o Beach, aka Canoe Beach. Coral Reef Alliance provided materials to help us in educating divers on ocean safety, how to properly remove debris, and some of the marine species you may see. As with the beach cleanups, the data collected from this reef cleanup will help us craft our strategies to fight marine debris, plus all participants will receive a RETHINK kit! Spaces are limited so reserve your spot today by emailing PWF Events Coordinator Caitlin Miller at [email protected]. Please reserve by Saturday, June 6 at 5pm.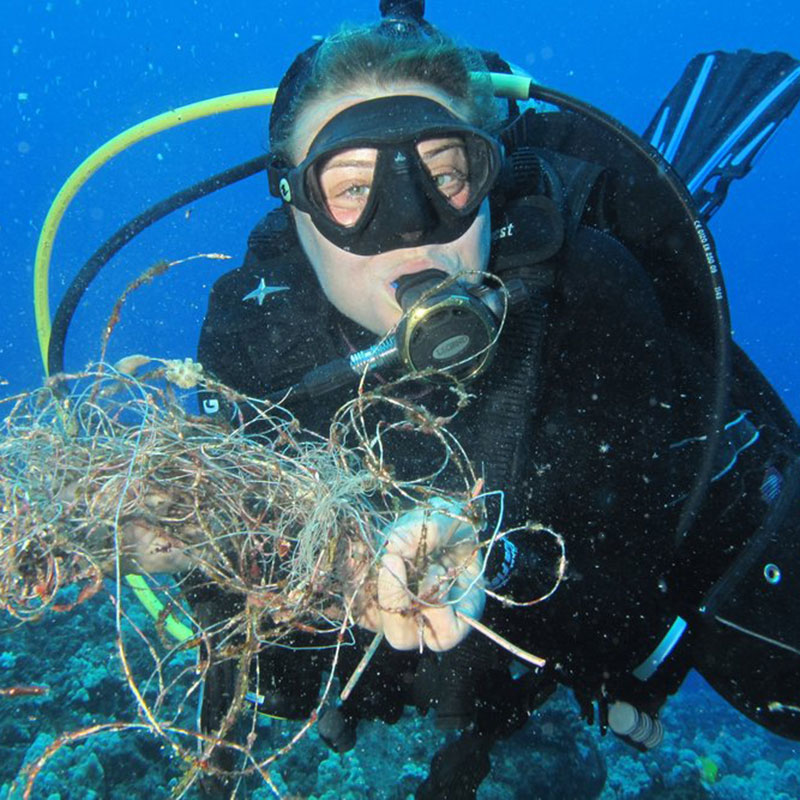 Enter our RETHINK Waste: Trash to Treasure Contest
Upcycle your waste or debris you collect during your beach cleanup that would normally go to the landfill and turn it into art! Art made from our rubbish serves as a physical reminder of what we throw away and gets us thinking and talking about how we consume and possibly how we can consume differently for the betterment of the ocean and the rest of the planet. Use the World Oceans Day 2020 theme, Innovation for a Sustainable Ocean, for inspiration or create something different. Submit your pictures and videos via email with an explanation of what you #upcycled into your artwork to PWF Education Manager Robyn Ehrlich at [email protected] by June 19 at 5pm.
1st place winner will receive a 16oz PWF 40th anniversary reusable metal water bottle; 2nd place will receive a variety pack of Abeego wax wraps; 3rd place will receive a 2-pack reusable Velcro bag set!
Follow our Daily Video Posts
Leading up to World Oceans Day, we will be sharing a new video every day that focuses on a specific threat the ocean faces and what you can do to help, with special commentary from people in different locations around the globe! Find these videos on our Instagram and Facebook pages and feel free to add your own suggestions in the comments.
We look forward to seeing what our citizen scientists and artist can accomplish this World Oceans Day! Be sure to tag us on social media using @pacificwhalefoundation and #WorldOceansDayPWF.